OneTouch
The most personal entrance in the world
Pirnar Ultimum Pure with OneTouch system is currently the most personal entrance in the world: a lavish and entertaining device characterized by high technology, intended for the chosen few. Door entries featuring an automatic pull-out/pull-in OneTouch handle and automated adaptable illumination, recognising the owner by means of a fingerprint reader, are the first entrances of the kind to appear on the market. An aesthetic and technical masterpiece has been honoured with two awards at the German Design Awards 2017.
---
World innovation for bigger comfort.
As the hidden fingerprint reader recognises the owner, a handle deploys neatly and automatically, and illuminates the surrounding area while the door unlocks itself. After a while OneTouch turns into a refined surface with no handle and the door locks. Entirely independent of the power supply, a special mechanism is in place to ensure that the handle retracts automatically without ever trapping or damaging fingers.
---
Fascinating entrance, safer home.
When the door has been closed for just a few seconds, Pirnar OneTouch again turns into a refined surface with no handle, making it impossible for uninvited guests to manipulate the entry in any way. It is therefore clear from a distance that the door is locked and the home safe.
---
OneTouch shows who you are.
Pirnar OneTouch is the pioneer in a new generation of smart entrances that greet their owners. Providing an ideal entrance for modern, intelligent homes and offices, the OneTouch system takes Pirnar door entries far into the future.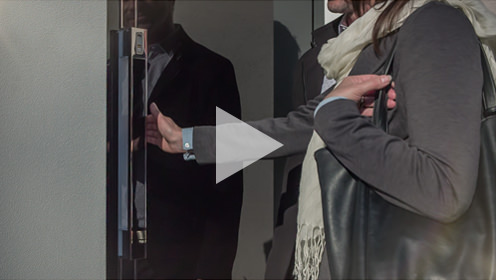 ---
Ambitious representative? Welcome!
Pirnar entrances are among the most admirable, long-lasting and insulated entrances in the world. Our goal is to be the best, so we are looking for representatives who are equally ambitious and demanding.
We are looking for representatives all over the world, who want to considerably increase their sale.
We are looking for salespeople for top-class entrances, which customers buy and recommend with enthusiasm. We are looking for people, who demand an established sales process and first-rate support for the sales team.
Let us get to know each other. This might be a start to long-term partnership. Contact us at the address below.