What do popular front door colors say about you?
The color with which we paint front doors gives guests and passers-by a sense of the people who live behind them. Choose between a bold black or a passionate red that will brighten up your home.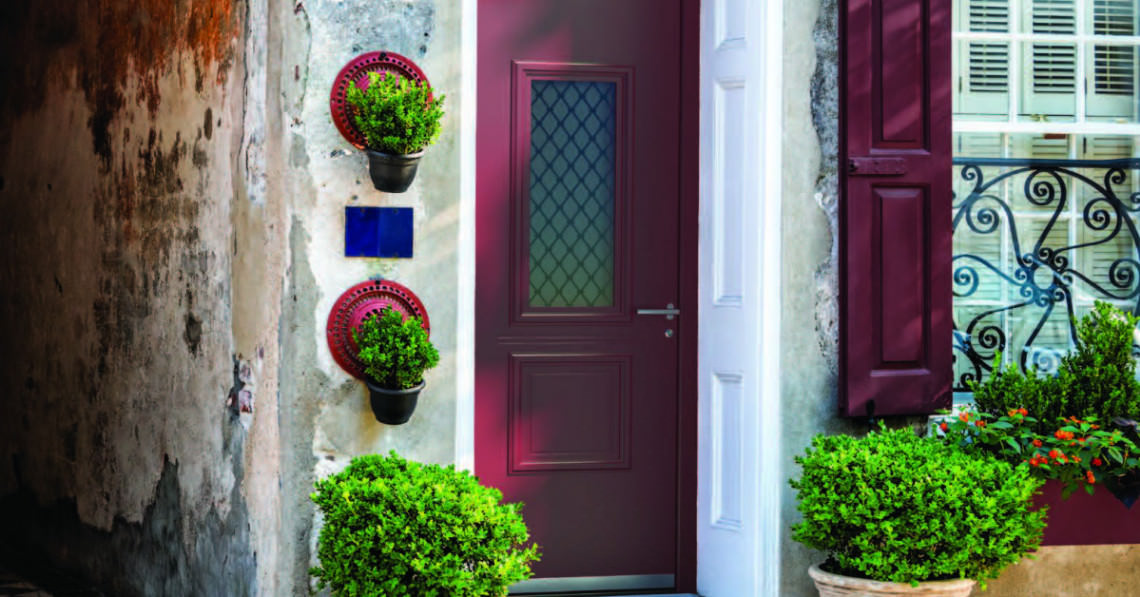 Different color combinations evoke different emotions in us. Do passers-by and visitors find you an intelligent, friendly, sincere or mysterious person? What do the different colors say about us?
The color we use for the front doors not only gives the outside world a sense of the personality of those living inside, but can be a wonderful melody that exclaims "welcome home!" to us after a busy day. Different colors can revive the exterior of your house and improve the look of your home, thus affecting your well-being and interactions with your space. Let the color of your aluminium front doors speak up.
Aluminium front doors and the bold black
Perhaps choosing a dark color may seem daunting at first, but in reality, black is the color of mystery, the unknown, and is a protection from external emotional stress. Painting aluminium front doors in black is a proven way to increase the value of the home, as it contributes to a luxurious and modern look. Black doors give potential buyers the impression that your house is a serious, daring and safe choice, and arouse in them a feeling of comfort and self-confidence. Due to its intensity, black can be intimidating, unfriendly and inaccessible at first, but at the same time it radiates self-confidence and intelligence.
Aluminium front doors and the classic blue
Depending on the color wheel, blue is often associated with depth and stability. It symbolises trust, loyalty, wisdom, intelligence, faith, truth, and heaven. Try painting your front doors in a light blue color that is associated with calmness and confidence.
Each year, different experts from different fields choose the color of the year, which then floods the world's interiors.
The color for 2020 is a classic blue, which evokes a feeling of calm in us.
There is certainly a wide range of shades of blue that bring different responses. Lighter shades of blue and are associated with health, healing, calmness, understanding and softness. Dark blue represents knowledge, strength, integrity and seriousness. Both are great options.
Aluminium front doors and the grey glamor
Grey shades are the ones that attract us over and over again. Take a step back in your home and you will see them everywhere. In color psychology, the people who like grey are those who try to protect themselves from the world around them, which shows that these people prefer a safe and balanced environment. Maybe it's the calming effect, the one that conjures up the comfort of home and the security of a contented life that makes this color special. Use darker, dramatic shades to add a touch of intensity and mystery to your front doors, but you can also add contrasting accessories, like black or gold which will really change the whole look of your entrance doors. This timeless shade gives front doors a hint of modern elegance.
Aluminium front doors in passionate red
Are you ready to make a big and daring impression with aluminium front doors? Red will definitely take care of that! The screaming red color always attracts our attention and because of its fiery nature, it can also be called the color of summer. According to the color wheel, red is associated with energy, war, danger, power, determination, as well as passionate desire and love, which makes the color very emotionally intense. It increases human metabolism, increases the respiratory rate and raises blood pressure. Red is used to denote courage which is most likely also the reason we find it on many national flags.
Aluminium front doors in noble purple
Purple can be described as a different and intense color that bursts at the seams with different emotions. To lean on the purple trend, stick to plum or cranberry shades. Purple combines the stability of blue and the energy of red. It symbolises strength, nobility, luxury, ambition, wealth and extravagance. Purple is associated with wisdom, dignity, independence, creativity, mystery and magic. All of these are great reasons to try this unconventional shade on your front doors.
Aluminium front door in sunny yellow
Yellow shades invigorate, bring happiness and sunshine and the color itself is associated with joy, intellect and energy. To keep it from being too flashy, try a mustard shade or add contrasting black accessories such as a black pull handle. The yellow aluminium front doors will welcome guests in a spirit of joy and communicate to others that your home is fun and lively, just like the people who live in it.
Aluminium front doors in forest green
Green is the color of nature and symbolises growth, harmony, freshness and fertility. Green has a strong emotional connection to security and olive tones represent peace. This color gives inspiration and helps us to be successful creators, as it is in close connection with nature. The color green gives us the will to work, it is easier for us to organise ourselves when we look at it and at the same time it gives us additional intuition and strength to do the things we have imagined and helps us know how to realise them.
So, which color describes you best?
If the choice worries you and you are afraid that you will regret the choice later, leave it to the experts who will make the choice easier for you. Consultants in the Pirnar showrooms will provide you with the latest information on color trends and recommend the best choice to you to refresh your entrance.
The decision to visit a showroom will help you to be able to compare your home with the colors and models in the showroom. The most popular models from different collections are on display.
You can visit the Pirnar showrooms.
---
---
Catalogues
Download catalogues for the latest and most innovative Pirnar entrances. Browse them together with your loved ones.