What are the advantages of Pirnar aluminium front doors?
Front doors are essential as they give a unique stamp to your home. In our offer you will find a wide range of unique Pirnar front doors that will take your breath away.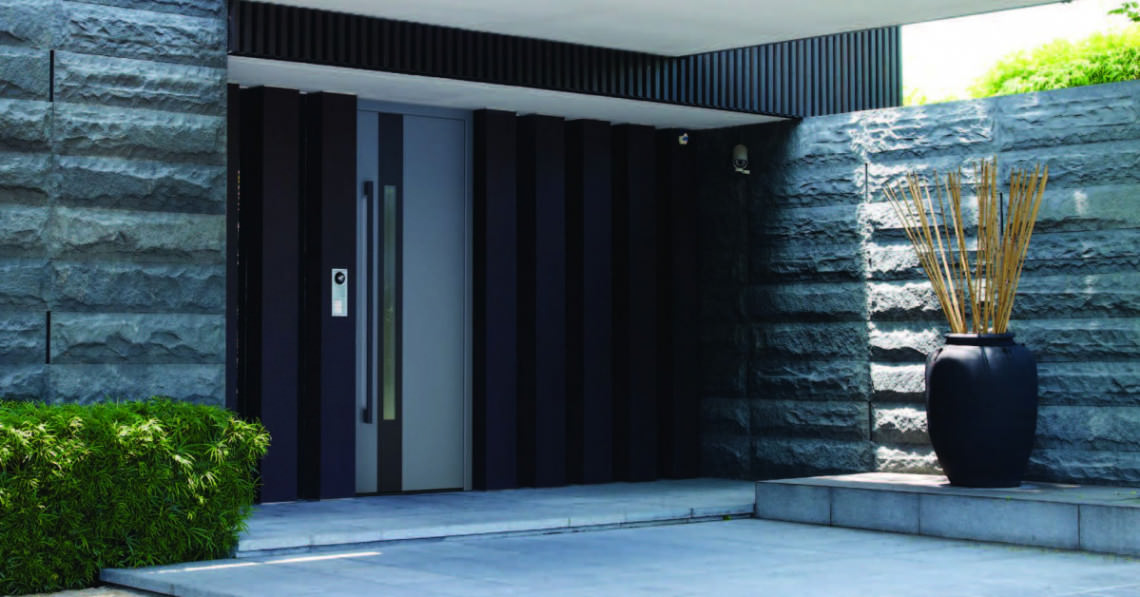 The unique style and elegant additional elements of your front doors attract the looks of passers-by and your visitors. Special patterns and lines are the first thing you see when you return home, and the details will also be noticed by your visitors. Front doors are essential to the architectural design of your entrance as they give your home a unique stamp. In our offer you will find a wide range of unique Pirnar front doors, from simple and classic all the way to modern and extravagant front doors which will take your breath away. Each front door from our extensive collections can be redesigned according to the wishes of the client, the only limit is your imagination. Our designers and skilled craftsmen can completely adapt doors to your wishes and create perfect and unique house entrance ideas just for you. By choosing the right front doors, you will give your home a personal touch and at the same time provide a pleasant welcome when you come home.
Main features of Pirnar aluminium front doors
Aluminium front doors are extremely resistant to weather conditions and offer superior thermal and sound insulation, while at the same time enabling precise processing, whereby exceptional design solutions can be achieved. If we combine all these features, we get the perfect front doors, which will serve you long after your purchase.
Aluminium front doors have a number of advantages. The main advantages are:
structural stability
exceptional sound and heat insulation
excellent anti-theft protection
long life
unlimited design possibilities
Aluminium front doors are also characterised by exceptional resistance to temperature changes and external influences, which ensures exceptional stability even in extreme weather conditions.
A company with a 50-year tradition
In our diverse collections you will find a wide variety of style solutions as you can choose between clean and modern lines, timeless classic elegance or traditional sophistication. In our basic offer you can find about 250 different models of aluminium front doors which our production can completely adapt to your wishes and requirements.
What does our own production and constant quality control offer you?
production in modern production facilities that cover more than 30,000 m2
each door is unique, made under our watchful eye
own glassworks with the latest technology
modern paint shop
continuous quality control before delivery
We are specialists in the field of innovation and production of aluminium front doors, with many years of experience. Our top quality front doors await you in our showrooms.
Security of your home should come first
Exceptional anti-theft protection distinguishes all Pirnar front door models, protecting your home from intruders.
High level of protection as standard
Excellent safety properties combined with modern processing technology. The quality materials we use in the construction of the front doors provide an exceptional level of anti-theft protection, but for those who want to better secure their home, we offer RC1, RC2 and RC3 - higher levels of protection and locks with a multi-point locking system and safety cylinders. All locks allow the cylinder to move away from the edge of the sash, making it easier to lock and unlock the doors.
Certified safety packages RC1, RC2 and RC3
What does RC1 protection offer you?
multi-point security lock
safety glass
3 strong safety hinges
safety cylinder
protective rosette around the cylinder
What does RC2 protection offer you?
multi-point security lock
P4A safety glass (laminated)
3 strong safety hinges with safety pins
safety cylinder
protective rosette around the cylinder
What does RC3 protection offer you?
multi-point security lock
P4A safety glass (laminated)
3 strong safety hinges
safety cylinder
protective rosette around the cylinder
safety pins
Safety glass for increased safety
Tempered safety glass (ESG) is extremely impact-resistant and, in the event of breakage, shatters into small, non-sharp particles, reducing the risk of injury. Laminated safety glass (VSG) and glass with additional bonded layers (P4A) provide an even higher level of safety. They consist of two or more layers of glass, which are interconnected by a PVB foil and when broken, the glass particles adhere to the film of the foil, which holds them together and protects against damage and possible burglary.
Aluminium front doors with excellent thermal insulation
Modern front doors must provide a high level of safety and durability, as well as energy savings. Pirnar aluminium front doors with standard top-quality insulation help reduce heat loss and contribute to lower heating costs and long-term savings. The double-sided cover wing offers exceptional thermal insulation which is ensured by an extremely strong construction and an insulating filling, covered on both sides with an aluminium plate. In our own glassworks we also produce quality insulating glass which, in addition to excellent sound and heat insulation, also provides a high level of anti-theft protection.
Custom doors that express your personality
Choose a model that will impress you again and again. Our handmade aluminium front doors are among the most awarded and popular doors around the world due to their first-class design and smart technology.
Unique combinations of accessories will further ennoble your modern front doors. Accessories such as our unique and award-winning handles with Pirnar fingerprint reader and specially patented LED illumination will make sure that you fully experience your creativity and make your luxury doors different from others on the market.
Wide selection of powder paints
When it comes to the color of your entrance, you don't have to compromise. Choose a shade that reflects your personality and complements the architecture of your home. You can clad your Pirnar front doors in a variety of color combinations.
We offer quality paints that do not fade over the years due to a special coating and are resistant to a variety of weather conditions.
The range of colors includes:
matt and gloss color tones according to the RAL scale
structural color tones
wood and concrete decors
Selection of decorative and ornamental glass
Glass not only has an aesthetic function, but also gives a beautiful appearance to the door and a pleasant atmosphere in the room. You can choose from a variety of ornamental and decorative glass and even stained glass, which will arouse a little nostalgia in you. The glass can also be supplied with various motifs, which enables unlimited aesthetic possibilities, and also provides for a very special charm of the front doors.
Patented Pirnar handles
Handles not only have a practical purpose but are also an important stylish addition to your front doors. We offer a wide variety of handles of various shapes and lengths. You can choose between advanced, submerged handles and those with different patterns of LED illumination, but you can also personalise them with an engraved and illuminated inscription. The handles can also be equipped with an advanced unlocking method with the Pirnar fingerprint reader.
Your finger is your key!
The new generation of front doors is equipped with fingerprint readers, which represents a new step in the field of security, practicality and comfort. Forget about looking for the keys, because your key is your fingerprint. The fingerprint door gives you complete control. In doing so, we designed the Pirnar reader in a way that it is not dependent on electricity in the event of a power failure and there will be no problems even if your hands are dirty, damaged or greasy.
Have you heard of the Theatrica entry wall? Theatrica is based on smart facial recognition technology that compares a person's facial features with the data in the database and opens the doors to the correct person. The Theatrica entry wall is the most daring project of the Pirnar company and will surely impress you.
---
---
Catalogues
Download catalogues for the latest and most innovative Pirnar entrances. Browse them together with your loved ones.